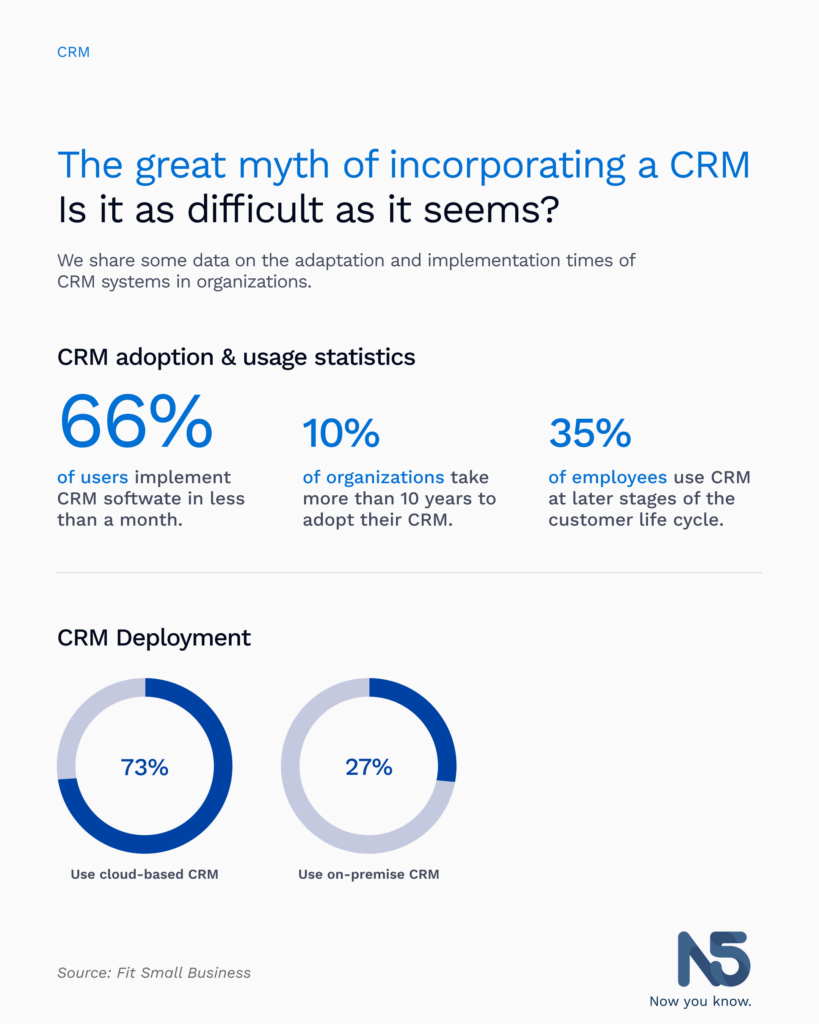 Getting users to make the most of the functions of a CRM is one of the most frequent challenges when implementing this tool in a company. The statistics related to CRMs show exactly how difficult their adoption can be and explain why many companies decide to invest in these platforms.
Most users (66%) can implement their CRM software in less than a month.
Although the statistics are promising, CRM software implementation can be difficult, as it involves a significant investment and is a crucial tool for the success of a company. For this reason, companies must have a team of stakeholders that can lead the software implementation process effectively.
Typically, this process is divided into several key phases, including software installation, process review and needs analysis, design, configuration and integrations, as well as training and post-implementation support. . It is important that each phase is carried out with care and attention to ensure a successful implementation.
A small part (10%) of companies take up to 10 years to adopt their CRM system.
The measurement of the adoption of a CRM software is done by the percentage of users who actively use the platform compared to the total number of paid licenses. However, some companies take longer to adopt CRM due to various factors, including a lack of commitment from senior management, an uncooperative work culture, financial constraints, system development issues, and strict data privacy regulations.
Only 35% of employees use CRM software in the later stages of the customer lifecycle.
Approximately one-third to nearly one-half of sales teams use CRM software during the early phases of the customer lifecycle: awareness, engagement, and purchase. However, the use of these tools decreases significantly in the stages of customer retention, growth and promotion.
This uneven use of CRM presents a challenge for sales teams trying to provide a personalized customer experience and appropriate support.
73% of companies that adopt CRM use cloud-based programs and 27% use on-premises systems.
Businesses using on-premises CRM software are typically concentrated in the hospitality, banking, financial services, and nonprofit industries, although it is also used by manufacturing and consulting companies. On the other hand, cloud-based CRM systems are more advantageous for small businesses.
Get to know the N5 Suite CRM here N5Now