What is it?
It is the N5 Now solution for the administration of the campaigns of organizations belonging to the Financial Industry.
What does it do?
It allows the planning, configuration, execution, traceability and measurement of different types of initiatives aimed at customers through various channels. It considers Commercial, Administrative, Service and Risk campaigns.
How does ir do it?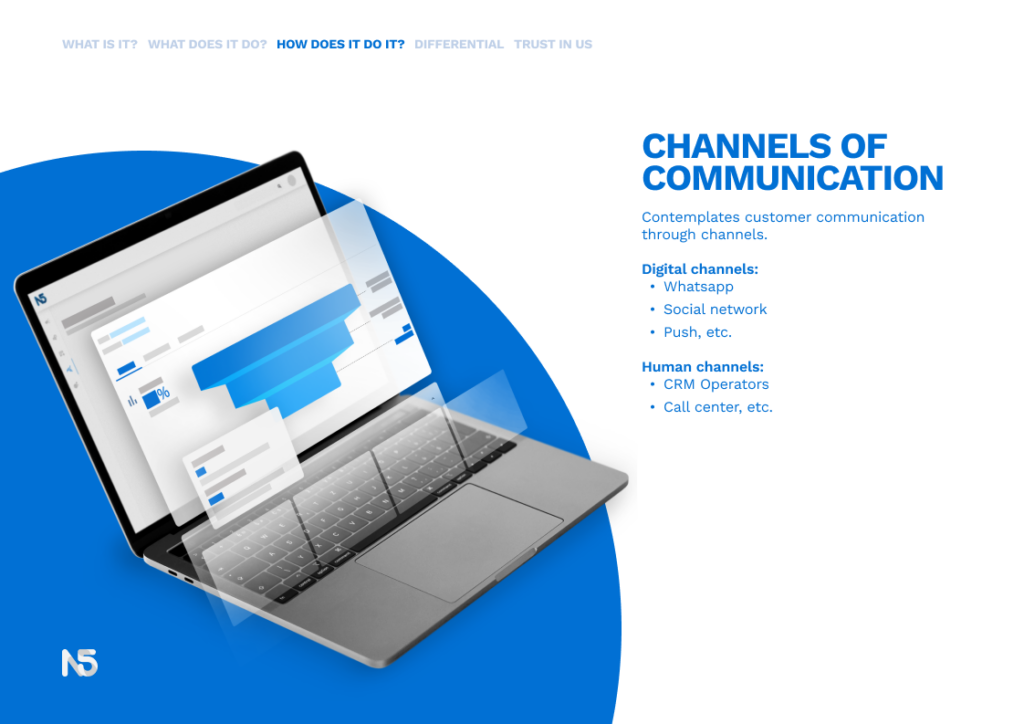 Metrics & effectiveness
It provides various ways or mechanisms to improve the performance of a campaign:
Success criteria
Marketing metrics (channel feedback)
A/B testing
Sending test by channels
Control group by campaigns
Control group by journey
Universal control group
Target simulator
Campaign optimization
Campaign Summary
Export of clients by campaigns
Different types of campaigns
It allows you to create different types of campaigns by life cycle stage or by type of product.
Through multiple variables, different audiences can be created:
Segment Creation
Creation of CTA's
Filters by entity
Smart exclusions
Input target of other campaigns
File upload
Contact policies
Logical operators by entity
Filter grouping

Our differential
Competitive advantages and customer benefits
Accuracy in the target audience
Greater engagement and customer satisfaction, with communications that impact only customers within a specific target.
Results measurement
It allows knowing the evolution of the strategy and managing it based on the results of the communication objective or marketing metrics associated with the channels.
Centralization of campaigns
Management, monitoring and measurement of communications, all in one place. Integration of multiple channel providers, event capture and visualization of the detail of communications.
Customer cycles
Allows you to manage and value the customer's life cycle from their first interaction as a prospect
Turnkey product