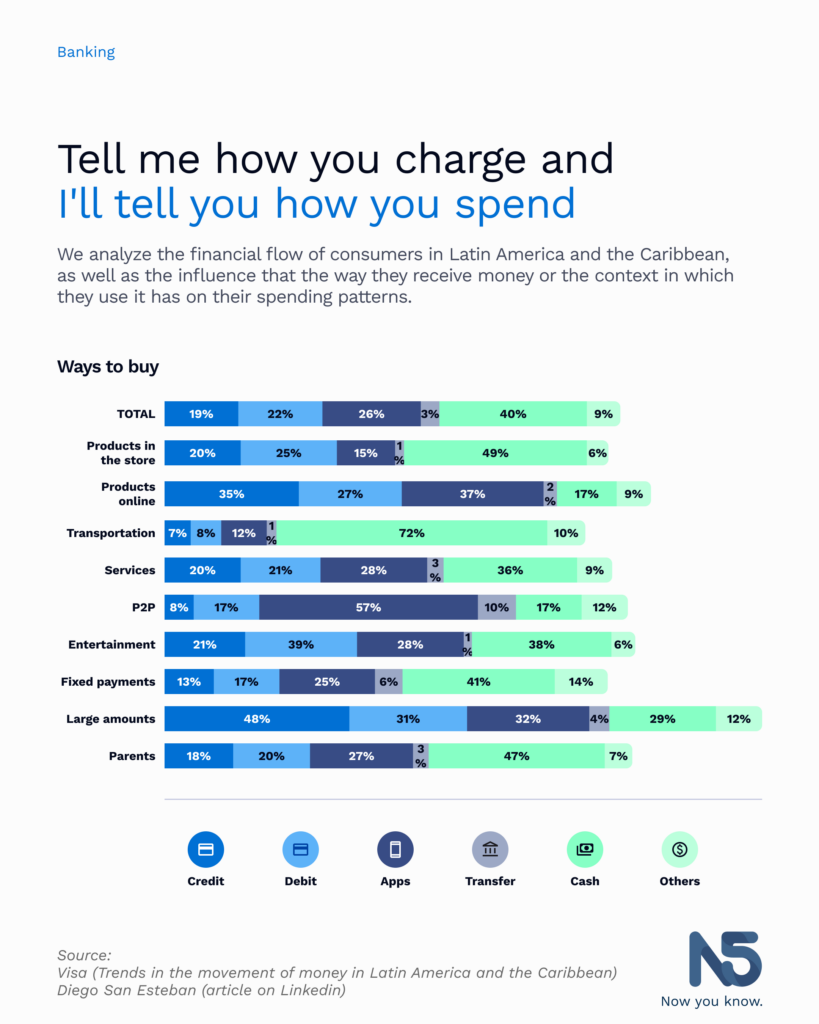 We analyze the financial flow of consumers in Latin America and the Caribbean, as well as the influence that the way they receive the money or the context in which they use it has on their spending patterns.
According to a study conducted by Visa, the way people receive money impacts the way they use it. In fact, those who usually receive money digitally also tend to make more payments in this mode. Those who receive money through digital methods, such as bank transfers or other digital options, typically use five different ways to pay: credit card, debit card, cash, mobile apps, and digital wallets.
According to the study, 67% of consumers use both a traditional bank account and a digital wallet, while 18% only use a digital wallet and 6% only use a traditional bank account.
Although a large part of the population uses digital means to make payments, those who receive cash tend to make cash payments to a greater extent. By comparison, 52% of those who receive cash make payments in the same way, in contrast to 42% and 46% of those who receive money through bank transfers or applications, respectively. Additionally, those who receive cash payments use only four payment methods, fewer than those who receive money digitally.
The data from the study shows that the choice of payment method also depends to a large extent on the type of purchase that is made. Although cash is still the predominant payment method in all categories except online purchases, person-to-person payments and high-value purchases. For large purchases, only 29% of consumers use cash, while 48% opt for credit cards, 31% choose debit cards, and 32% use apps. On the other hand, 72% use cash to pay for transportation, while only 28% use credit and debit cards, applications or bank transfers.
The type of expense also influences the choice of payment method. People-to-person payments are heavily tilted toward mobile apps (57%), compared to 26% for total payments.
It is important to highlight how new technologies are transforming the financial landscape and creating new opportunities for people. It is remarkable how they have improved the user experience in managing their money, eliminating the need to carry cash or look for an ATM to carry out transactions. Now, they can make payments with their mobile phone or contact cards anytime, anywhere.