N5 Now has spent much of its existence away from investors. Founded in 2017 by the Argentine Julian Colombo, the company was even cited in the newspaper Clarín as a rebel of the market, for its aversion to investors and focus on growing with its own resources. "We were the girl who didn't give a ball to anybody," Julian said in an interview with Startups.
Like every smart girl, N5 waited for the right moment to indulge in the temptation of venture capital – and did so with some market "partisans." The fintech raised an undisclosed amount with the participation of Illuminate Financial, a venture capital firm that has as limited partners some of the largest financial institutions in the world such as JP Morgan, Citi, Barclays, BNY Mellon, S&P Global and Jefferies.
Also entering the business were Exor Ventures, a manager linked to the Agnelli family and a shareholder in Ferrari and Stellantis; Madrone Capital Partners, a company associated with the Walton family, majority partners of Walmart; LTS Investments, the investment holding company of the Lemann, Telles and Sicupira families; Arpex Capital, investment holding company of entrepreneurs André Street and Eduardo Pontes; and Overboost, a venture building and fund management firm.
"We waited for the right time to open the round and have the opportunity to meet some of the best investors in the world, and the round was eight times larger than we originally estimated," says the CEO of N5 Now, pointing out that the funds will be allocated mainly to the technology part and entry into new markets.
However, to attract investors with "coffee in the teapot", you need to show numbers of respect. According to Julian, N5 Now has nothing to complain about in this regard: the company has had an exponential growth in demand in the last year. "We had the goal of doubling in size by 2023 and we already hit that goal in June," he says.
Tying up loose ends
But after all, what does N5 Now do to get that attention from investors? As the CEO explains, the company has developed a mix of SaaS and PaaS that works to "tie up loose ends" in the complex systems that run on financial institutions. We're talking about hundreds or even thousands of applications running in parallel, and several of them don't communicate.
"Every bank has a problem that I call technological entropy. To solve this, what we did was a common database to feed all these systems that do not usually talk to each other, "says Julian. For about 20 years, Julian worked at Santander, ending his career there as Global Director of Business Intelligence at the headquarters in Madrid.
"After so many years of taking care of and supervising the development of software for Santander, I decided to set up my business and take my knowledge to the market," says Julian, who joined other experienced executives in the financial segment to set up N5 Now.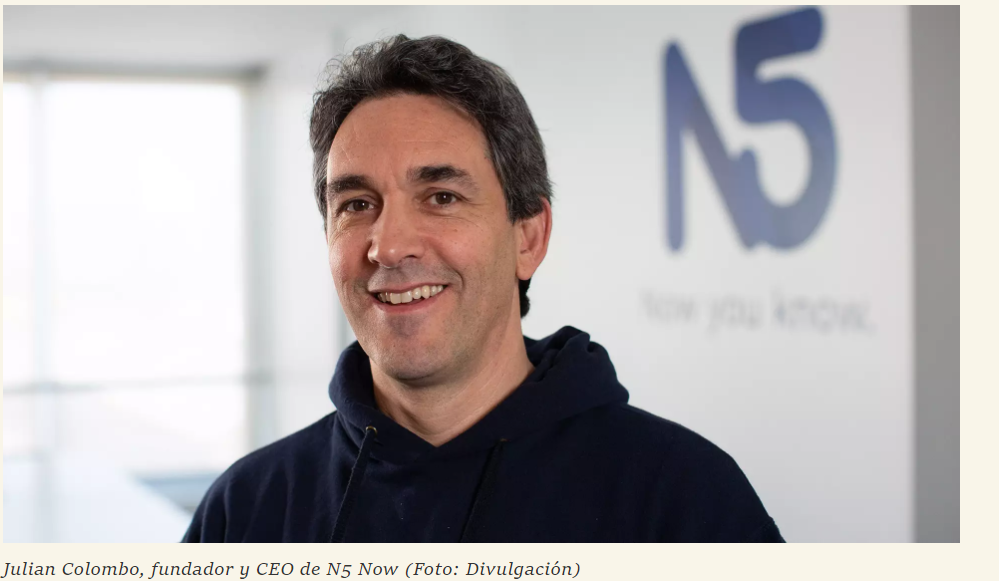 Despite being somewhat low profile – if you look for articles about them in Portuguese, you won't find many – the company has conquered big names only by word of mouth. With a presence in 13 countries, the company serves big names in the financial sector such as Mastercard, Santander, Credicorp Bank, Zurich, Sudameris, Banco Atlas, N26, Farmers Insurance and BCP.
"Our focus is to deliver something differentiated to customers. The financial sector is a reputation-based industry, so we always bet on underpromising and overdelivering," explains Julian when explaining why his company has renowned clients, but does not advertise so much about it.
Strong legs
According to the CEO, the company has always operated with its accounts in the positive. "When you're making money, you can wait as long as you want to choose an investor," he says. However, bringing in skilled investors is the step to take the company to a new level, especially in the part of serving more international markets.
"We have seen an exponential increase in demand, exceeding our most optimistic forecasts. In regions where we do not yet operate, our access list has grown significantly, with customers asking in advance for our platform. That's why we understood that it was time to partner with great partners with the expertise that will allow us to serve these customers faster and keep up with our global growth," says Julian.
According to Julian, an example of this rapid demand was Paraguay, a market in which N5 recently entered and has already become a local leader, serving more than half of the country's large banks. "We will now have the ability to move forward to meet this waiting list in other countries," he explains.
Despite having its headquarters in the United States, N5 Now's focus should remain on Latin America, with new countries increasing the current base of 60 customers, but there is also the plan to grab even larger slices in thriving markets such as Brazil and Mexico. In the case of the Brazilian financial sector, N5's expectation is that revenues will grow above the average forecast for the company as a whole.